Upcoming Events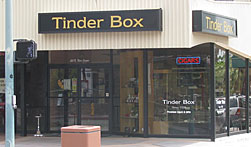 Palm Springs Tinder Box

One half block south of the Hyatt Hotel.
200 North Palm Canyon Drive
Palm Springs, CA 92262




pipes
,
pipe tobacco
,
cigars
,
cigar cutters
,
humidors
,
lighters
,
gifts
,
smoking accessories
,
flavored tobacco
,
pipe smoking
,
cigar smoking
,
father's day gifts
,
tobacco blends
Palm Springs Tinder Box offers pipes, pipe tobacco, cigars, smoking accessories and unique gifts. Tinder Box has been your pipe and cigar smoking experts since 1928.
(760) 325-4041


or Sun - Wed 10AM to 4PM Thu - Sat 10AM to 8PM


About Us


About Tinder Box


Store Location


Contact Us


Step into the world of Tinder Box. We are delighted that you, our most valued customer have come to visit our web site. Within these pages, we are not only portraying our products and stores, but likewise our commitment and our pride. Our commitment is to you, our customer and our pride is in our merchandise and our people. Our products are carefully created and chosen by experts who travel all over the world seeking merchandise that illustrates our devotion to impeccable quality. Within these pages, you'll discover a wealth of information on our favorite pastime. And you'll also find the world's largest array of pipes, cigars and accoutrements that include the rare, the unique and the unusual in tobaccos and gifts. And so, sit back, light up your favorite pipe or cigar and let yourself drift through the multitude of treasures that await your eyes at every page. At Tinder Box, we will continue to enhance our position as the number one retailer of pipes, tobaccos, cigars and gifts in America by utilizing these most basic retailing principles: Quality, Selection, Value and Friendly Service.



| | |
| --- | --- |
| | We believe our products offer the finest values available today. For example, we offer our Exclusive Frontmark Cigars. Simply, these cigars are delicious. If you try them, you will agree that you've found a truly great cigar. Likewise, we feature our Exclusive Private Stock that are great everyday cigars that continue to satisfy our loyal customers through all the years. For the pipe smoker, we feature many of our own Tinder Box Pipes designed and crafted by world renowned pipe makers exclusively for us. We are also justifiably proud of our Tinder Box Exclusive Custom Blended Tobaccos. Many of these tobaccos have been blended exclusively by us since 1928 to ensure the quality never varies. Through our products, this is a business that has been built on utmost quality. We aim to satisfy the finer tastes and pleasures of each customer who crosses our threshold. Let us cater your next event with cigars! Just give us a call to discuss the details - we have many brands and types to fit your budget. Ask for Brian !! |