Upcoming Events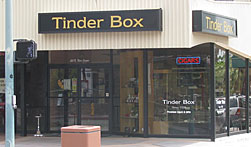 Palm Springs Tinder Box

One half block south of the Hyatt Hotel.
200 North Palm Canyon Drive
Palm Springs, CA 92262



pipes
,
pipe tobacco
,
cigars
,
cigar cutters
,
humidors
,
lighters
,
gifts
,
smoking accessories
,
flavored tobacco
,
pipe smoking
,
cigar smoking
,
father's day gifts
,
tobacco blends
Palm Springs Tinder Box offers pipes, pipe tobacco, cigars, smoking accessories and unique gifts. Tinder Box has been your pipe and cigar smoking experts since 1928.
(760) 325-4041


or Sun - Wed 10AM to 4PM Thu - Sat 10AM to 8PM CLOSED CHRISTMAS DAY (December 25th)


About Us


About Tinder Box


Store Location


Contact Us



| | |
| --- | --- |
| | If you've ever set foot into one of the many Tinder Box retail tobacconist shops, then you probably understand why our customers keep coming back. Tinder Box was originally founded in 1928 by Ed Kolpin, one of the true pioneers of the pipe business. After many successful years Kolpin desired to give others the opportunity to experience Tinder Box and sold his first franchise in 1959, long before franchises where common among American business operations. For years Tinder Box was not only the largest pipe and tobacco retailer in North America, it was also the largest franchise operation. |

Today, with many locations throughout the states, Tinder Box has become synonymous with quality crafted pipes, original pipe tobacco blends, and fine cigars. If you are looking for that really special gift for a loved one, or for yourself for that matter, Tinder Box stores can make that special day even more special! To learn more about Tinder Box International, be sure to visit

tinderboxinternational.com

.

Attention - To stay informed about our latest products and pricing, please reach out to us by phone before purchasing. Our existing website is currently undergoing maintenance, and we are excited to unveil a new and improved site in the near future! (This message was posted on 11/27/2023) -------------------------------------------------------------------- Step into the world of Tinder Box. We are delighted that you, our most valued customer have come to visit our web site. Within these pages, we are not only portraying our products and stores, but likewise our commitment and our pride. Our commitment is to you, our customer and our pride is in our merchandise and our people. Our products are carefully created and chosen by experts who travel all over the world seeking merchandise that illustrates our devotion to impeccable quality. Within these pages, you'll discover a wealth of information on our favorite pastime. And you'll also find the world's largest array of pipes, cigars and accoutrements that include the rare, the unique and the unusual in tobaccos and gifts. And so, sit back, light up your favorite pipe or cigar and let yourself drift through the multitude of treasures that await your eyes at every page. At Tinder Box, we will continue to enhance our position as the number one retailer of pipes, tobaccos, cigars and gifts in America by utilizing these most basic retailing principles: Quality, Selection, Value and Friendly Service.